Cold Laser Therapy in Canton Ohio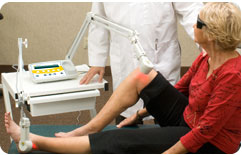 Cold laser therapy is now available at Belden Village Chiropractic & Wellness Center in Canton Ohio.
Cold laser therapy is used in thousands of hospitals, clinics and providers offices around the world.  It is used by college and professional sports teams and is now available for you.
Our FDA cleared cold laser uses specific wavelenghts of light to help with tissue repair, pain control and healing.  The cold laser stimulates the cells of the body and allows for improved healing time and a reduction in pain.
Laser therapy can be used on patient with metal implants, pacemakers, over knee replacements unlike other forms on physical modalities
Cold Laser Therapy Benefits:
Cold laser therapy offers a range of benefits:
Reduction of pain
Improved flexibility
Reduced swelling
Reduction in arthritic pain
Improved blood flow
If you have been suffering from a painful condition and have "tried everything", schedule yourself for a FREE cold laser therapy consultation to determine if this may help your condition.
Schedule your appointment by calling us at 330-493-0009.
To schedule your appointment